Full Mouth Reconstruction with Dental Implants: Stages of Treatment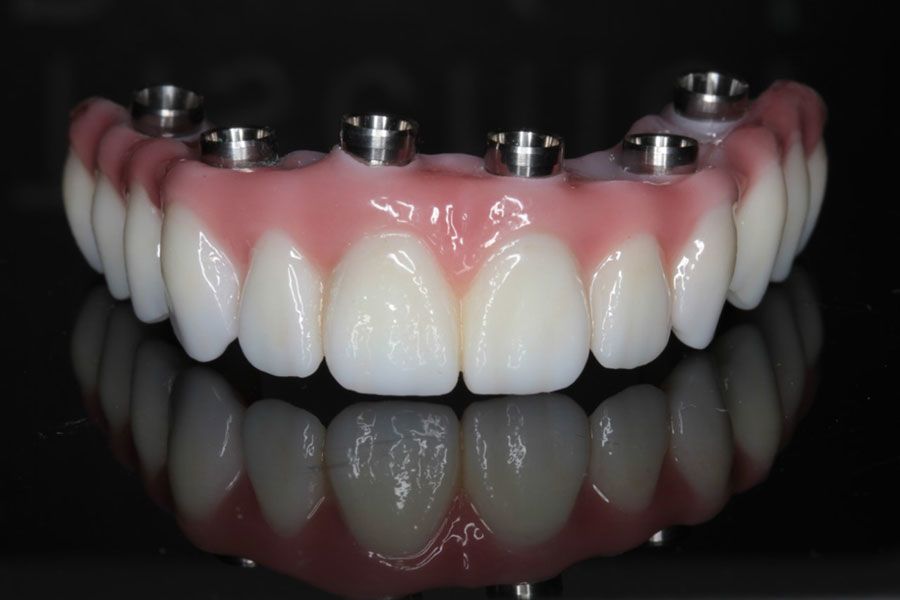 When the smile has been significantly damaged by oral health problems, including tooth loss, full mouth reconstruction allows us to rebuild the strength, health, and function of the smile. Whenever appropriate, we recommend that patients address tooth loss with dental implants.
Dental implants allow for the replacement of the crowns and roots of the teeth. Dental implants are the only option that preserves healthy jaw bone tissues.
Here, we discuss full mouth reconstruction with dental implants, along with the stages of treatment, to give our Memphis, TN patients an idea of what to expect from the procedure at Southern Dental Implant Center.
Stage One: Preparation
Prior to undergoing dental implant treatment, our dentists need to determine if the patient is an ideal candidate for treatment.
When significant tooth loss has occurred, it is not uncommon for other oral health issues to be present. This may include tooth decay, gum disease, or jaw bone degeneration.
Although a patient must be in good oral health prior to receiving dental implants, these conditions do not automatically exclude a patient from treatment. We can prepare a patient for dental implants by addressing these issues. Dental implant preparation will depend on the unique needs of each patient and may include restorative dentistry treatment, periodontal treatment, or a bone graft to strengthen the jaw.
Once the patient is ready to undergo dental implant treatment, we will perform a thorough evaluation to create a treatment plan. Using molds and digital images of the mouth, we will determine how many dental implants need to be placed. We will map out where the implants will be positioned so that they fully support the dental restorations that will be placed later on in treatment.
Stage Two: Surgical Placement
The second stage of dental implant treatment is the surgical placement of the dental implants, which are small titanium screws, into the jaw. This procedure is performed in-office.
We provide patients with anesthesia and sedation to ensure they remain completely comfortable throughout treatment. A small opening is created in the gum line above the location of each dental implant, and the implant is placed into the jaw bone. Once the implants are in place, the incisions will be closed and healing will begin.
Unless a patient is receiving Same Day Teeth™, the final stage of treatment will not take place for another four to six months. During this time, the dental implants will fuse with the natural jaw tissues in a process called osseointegration.
Stage Three: Restoration Placement
The final stage of dental implant treatment is the placement of dental restorations. Dental implants can support dental crowns, a dental bridge, or fixed dentures. The restoration will attach to small metal posts that sit above the dental implant and protrude from the gum line. Once they are bonded in place, dental restorations will function just like the natural teeth. They restore oral functions, improve the appearance of the smile, and enhance oral strength.
Learn More
If you have suffered from tooth loss, dental implants may be the best way to restore the health, strength, and beauty of your smile. To learn more about full mouth reconstruction with dental implants, and whether you may be an ideal candidate for this procedure, contact us at your earliest convenience.
Related to This