Explore the Benefits of Dental Implants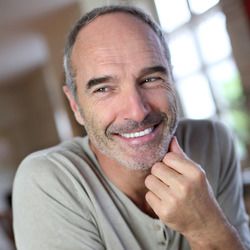 Dental implants are titanium posts that are surgically inserted into the jaw bone. Once they are healed, they mimic the function of natural tooth roots, and provide secure support for a variety of prostheses. Dental implants are a permanent solution that can restore function and aesthetics to your smile after you have lost one or more teeth. They are widely recognized as the gold standard in restoration and offer many advantages over traditional treatments. To learn more about the benefits of dental implants, contact our Memphis practice and book an appointment. Dr. Jason Collier can help evaluate your candidacy and determine whether this life-changing procedure is right for you.
What Implant Support Means to You
One of the most amazing benefits of dental implants is their ability to fill multiple applications. Whether you have are missing a single tooth and need a crown restoration, or are missing an entire arch of teeth and are interested in a denture, dental implants provide excellent support for a range of prostheses.
Because they are embedded in the jaw bone, implant-supported restorations feel extremely secure and natural within your mouth. You can eat, laugh, and speak with confidence, knowing your denture is not going to shift or fall out. You can even enjoy the foods you love that are sticky or difficult to chew. Dental implants are permanent restorative solution. With proper care, they can last a lifetime, and implant-supported restorations can be cleaned just like your natural teeth.
In addition to restoring the function of your bite, dentals implants are actually beneficial to the health of your jaw. The jaw bone naturally degenerates after teeth are extracted or fall out. Because implants mimic the stimulation provided by healthy tooth roots, the density and strength of the jaw is maintained, guarding against further tooth and bone loss. In this way, implants can help you avoid the sunken cheeks and wrinkles that occur after tooth loss.
Combining Experience with Technology
When you receive dental implants at Southern Dental Implant Center, you can rest assured you are receiving the very highest standard of care. Our team has years of experience and we use advanced techniques to enhance the placement of your implants. Our on-site computed tomography (CT) scanner creates a detailed digital image of your jaw and surrounding tissues by combining a series of X-ray images. Using information gathered from your CT scan, our dentists can determine your candidacy for the procedure, and map the placement of each implant within your jaw where it will be most secure.
When you choose Southern Dental Implant Center, you will not need to visit several offices for your surgery and subsequent restoration. We provide all related services on-site, streamlining your care and making your appointments convenient and efficient. Although traditional implants need between four to six months to heal before they can support a restoration, we are proud to offer immediate-placement implants. For patients who are candidates, we are able to provide same visit teeth. These advanced implants can support restorations as soon as they are inserted, meaning you can leave our office with a fully functional, beautiful smile in as little as one appointment.
Contact Us Today
Dental implants should be considered an investment in your smile, and our team is happy to help you understand the cost of the procedure. To learn more about the benefits of dental implants and schedule your consultation, contact us today.